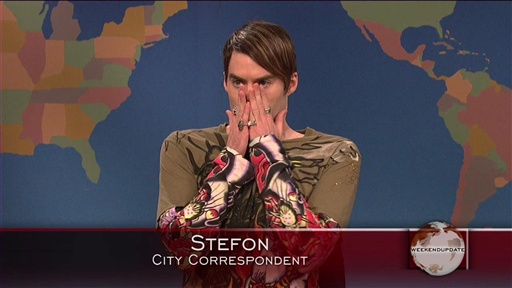 The season finale of Saturday Night Live is tonight, and with it we bid adieu to another beloved cast member.  There is some sort of unwritten rule about overstaying your welcome on the show, and while Jason Sudeikis and Fred Armisen have been rumoured to be leaving for quite some time now, it seems they'll both be sticking around—or will they?
The one star who's definitely got both feet out the door is Bill Hader, one of my personal favourites.  An eight-year SNL veteran who's been making more TV and movie appearances of late, Hader is said to be moving to L.A., in part because his wife, director Maggie Carey, needs to be closer to Hollywood.  I suppose his own acting career could benefit from a change of scenery, as well.
Hader has been known to play a wide variety of characters, including signature creations Stefon and Vinny Vedecci.  His far-flung facial expressions and wide-eyed exuberance will surely be missed by fans of the program—but then again, I'm sure they said the same about Steve Martin and Dan Aykroyd and Chris Farley and Adam Sandler and Will Ferrell and Tina Fey and Amy Poehler…  you get the point.  The beauty of SNL is in its renewal; case in point, I've already found a new favourite female cast member in Kate McKinnon.  As such, I'm sure that whoever comes in to take Hader's place will still be pretty funny.
That being said, if there's one good thing that could potentially come of this, it's that the craptacular Californians sketch could be dealt a fatal blow by losing Hader, who was both its co-star and co-writer.  Now, I'm not saying I want Armisen to leave, too—I particularly enjoyed his performance as the only punk rocker who liked Margaret Thatcher—but really, that surfer-dude skit has gotta go!
(Anyways, I won't be at home to watch this evening's episode, and right now my internet connection's slower than a one-legged hunchback in a potato-sack race, so I'll just hafta wait until it appears on Rogers on Demand.  Hopefully, it'll be up this weekend—I suspect the Rogers repairmen are taking the long weekend off…)