Tag Archives:
darrell sheets home invasion
Cuz I've been noticing a lotta silly Storage Wars-related search terms of late.
Answer: Because Taylor Brylla's mommy didn't love him enough.
Y'know, ever since I made that post expressing a few views on Storage Wars some three weeks ago, I've had a ton of traffic from folks wanting to know what's the deal with Darell, who mentioned off-hand that he's dealing with a divorce, a child custody battle and even a home invasion.  It seems it's the latter that people are most interested in, however–as a matter of fact, I've had 542 page views (and counting!) coming from Google searches for darrell sheets home invasion, not including some crazy misspellings, and wacky questions pertaining to said incident.  But I've had no answers to what they might have been looking for, at least not until now…
But first, a word to the wise: When there's a murder or a child abduction, the cops will post the name of the victim to elicit sympathy (and helpful tips) from the public.  But when there's a rape, for instance, they tend to omit the victim's name for privacy and safety reasons–just like when there's been a break-in.  And Darrell Sheets is not enough of a celebrity to have tabloids digging up dirt on him, which is why when you Google "darrell sheets home invasion,"  you only get me, a couple message board topics, and some blogger from the Houston Chronicle.
That said, we all know that Darrell lives in Vista, in San Diego County, right?  Thus, you might wanna check out the San Diego County Sheriff's web site.  Hmm, I betcha they have a News Release section…  And what's that I see on the first page?  Of course, we don't know that Darell lives in Moncado Springs, or that Taylor Brylla and his little brother were the ones who robbed his house, but hey, it's a start…
UPDATE 9:33 AM: So, now that you know the name of the suspect, you can use Google to find out a lot more about the case.  For example, this Channel 10 News story confirms that the unidentified 14-year-old is Brylla's brother, and includes a video interview with the neighbour who reported them to police.  There is also a Taylor Brylla from Oceanside on Facebook, though his profile is set to private.  Probably just as well, should one of those 1,000-member strong Darrell Sheets fan pages get word of this. ;)
Finally, here is a photograph of the alleged home invader, taken from one of the victims' home surveillance system: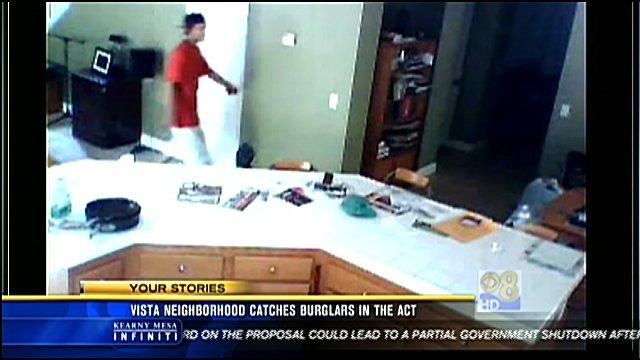 I guess there musta been a Storage Wars marathon on A&E this weekend, cuz Darell's been driving a lotta traffic to this site the past couple days.  Well, Barry, Dave, Jarrod and Brandi, too, but mostly Darrell.  I still don't know who robbed him, but hey…
Okay, so here's what kind it was: a clown invasion.  They came in dressed like Ed McMahon with a giant fake cheque, saying he had won the lottery, they squirted him with water guns until he gave up his comic book collection.  C'mon, really?  (I'll be here all year.  Try the steak, it's delicious.)