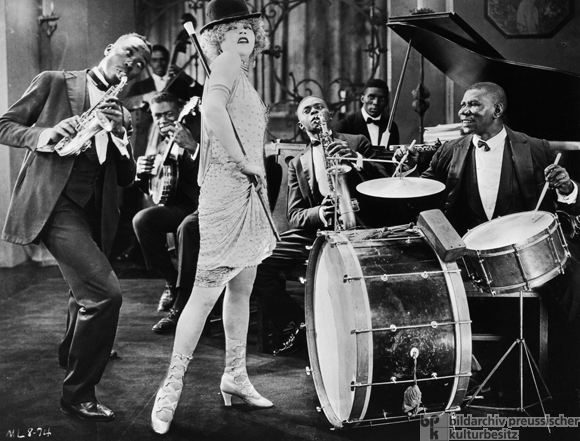 (This is not actually the artist in question, but it is the one of the first things that comes up when you Google "Enchantress band"…)
This killer power trio hails from just east of Toronto, and kicks out some seriously heavy psych jams.  Although the band name had me fooled at first, this act isn't female-fronted—they've just got the bastard son of Geddy Lee on pipes.  The dude can really wail.  Check 'em out, and you'll know what I mean…
Their new demo, Visualize, opens with de facto title track "Blue Moon Rise (Visualize)," awash in Sleepy basslines, with couple solid riffs in the chorus.  "Rain Maker" starts off slow and steady, then erupts in a volcano of pounding drums and molten riffage, eventually settling into a steady, head-nodding groove somewhat reminiscent of Led Zep.  "Ritual" offers a rocky, jagged romp, traipsing through the poppy fields and stomping on the daisies in its path, albeit not too savagely.
"Elder Tree" mellows things out a bit more, a light, airy, repeated riff kicking off the proceedings along with the odd drum accent.  Verses are crunchy and droning, before we go back to that neat little instrumental passage.  "Locomotive" gets things rolling again, this one chugging along steadily like the midnight train.  It's also where Bastard-Child-of-Geddy-Lee really lets loose in the vocal department, much to my delight.  Likewise, "Frozen Sky" is another upbeat number, fuzzy riffs and wailing vocals aplenty!  "Buck Thorn Queen" opens with an awesome riff barrage, before settling into a virtual vocal duet, trading off high screams and low moans (but not in a death metal way).  Some solid psych, to be sure!
These guys were supposed to open for Witch Mountain tonight, but they had to drop off the bill due to a sudden, unforeseen tragedy.  Bummer.