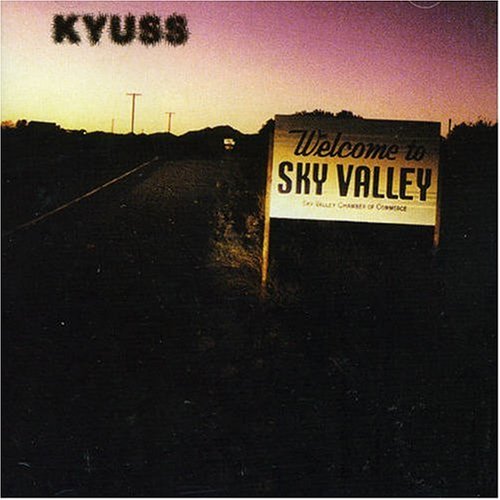 In many ways, the self-titled album known to most fans as Welcome to Sky Valley was a turning point in Kyuss' career.  After putting out their first two records on Dali, they found themselves on a larger label when Elektra bought out their former imprint.  They also had a new bassist in town, as Scott Reeder entered the fold after Nick Oliveri left the band in 1992.  And while Brant Bjork played drums on the record, he too would leave the band before its release.
Now, I dunno if this has been altered when the album was reissued, but the original Elektra CD only had four tracks—with one being a "bonus," if you'd call it that—dividing the album's 10 songs into three chapters of roughly equal length.  I've never seen an official reason as to why the band did this, but I gave them credit for originality, and moved on.
Chapter I is a solid introduction, with "Gardenia" kicking things off, Homme's overdriven guitars putting this machine into gear.  Newcomer Reeder is even giving his chance to shine with a few solid basslines underneath Homme's jungle boogie during a groovy middle section, before they kick it back into a steady chug.  The song fades out on a repeated "Muthafucka," courtesy of Garcia, before "Asteroid" hits.
And man, does it hit hard!  A massive mess of fuzzed-out bliss, this tune weighs a ton!  A heavy intro gives way to some effects-laden madness, which comes to a complete stop before building back up again though a mellow, laid-back chill all the way to Heavy Riff City, gradually getting faster until it explodes in a dead stop.  (Ah-Wam-Bam Benjaman!)
"Supa Scoopa and Mighty Scoop" would be single material, were it not for its six-minute length (they went with "Demon Cleaner" instead).  This song truly captures the spirit of the 70's, rolls it up into a big fat joint, and lets it all out in a big, billowing plume of smoke, affecting everyone within a five-mile radius.  Some of Homme's best riffs were saved for this one, if you ask me, and all three musicians are given their chance to shine on the stop-start jam that brings the number to its conclusion.
Chapter II gets off to a fast start with "100o," a barn-burner of a tune that's all over in two and a half minutes, but not before leaving its mark with some funky jams giving way to fast-paced fuzzorama.  "Space Cadet" slows things down at seven minutes long, the second-longest on the record.  Its mellow, bass-begun intro leads into a slightly Middle-Eastern vibe with Garcia crooning over some exotic sounds.  I will say that they coulda trimmed a couple minutes offa this one without losing too much in the grand scheme of things…
For a supposed single to be buried as the sixth song on the album seems a little strange, but Kyuss was never meant to be a singles band.  That said, "Demon Cleaner" isn't really all that representative of the Kyuss sound, a lazy, mellow number with a buzzsaw riff that offers little by way of tempo changes or general heaviness, though the solo stands out, as much for Reeder's bass work underneath as for the riffs overtop.  (The dude plays circles around Oliveri, IMO.)  That said, the label shoulda gone with "Supa Scoopa" instead, if you ask me.
Chapter III has three of the shortest songs on this record, before ending off with its longest.  After a brief intro, "Odyssey" takes all the heaviness that was missing from "Demon Cleaner" and packs it into about 30 seconds, a driving, distorted number with all guns blazing that brakes for a brief cool-down before taking off again.  "Conan Troutman" is another number that doesn't waste any time in getting to the point, a fuzzy, up-tempo stomp that barely lasts two minutes.  "N.O." is another Homme riffmeister piece, breaking out into a soulful, funky stomp with feeling, punctuated by pounding drums and heavy low-end.
"Whitewater" is officially nine minutes long, ending the album on an extended instrumental note.  Opening with a solid Bjork beat, the riffs hit you like a roaring tide, as Garcia's vocals ride the crest of the wave.  Yet this song is decidedly mellow, as it's got a nice, relaxing vibe despite the heavy riffage, with the extended jam session offering a trippy display of psychedelia –and some solid musicianship to boot.
Although I'd take the top five tracks from Blues for the Red Sun over the top five tunes on Sky Valley, I think the latter is the overall better listening experience.  The band really branches out into more psychedelic landscapes on this one with some interesting instrumental passages—and the addition of Reeder really gives the songs a big boost!
CHOICE CUTS: Chapter I, Chapter II, Chapter III
THE VERDICT: This one is meant to be listened to from start to finish, without skipping any tracks.  Hey, you couldn't really jump between songs on the original CD version, anyways.